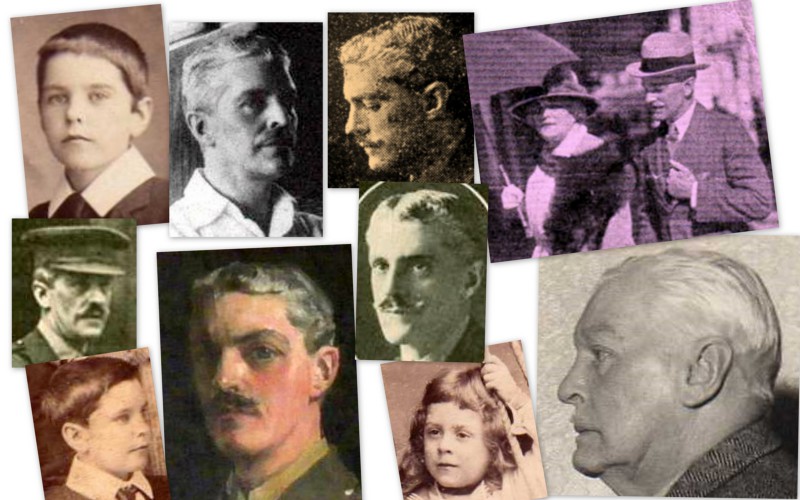 Montie Porch:
a charmed life
The Glastonbury man who married
Winston Churchill's mother
by Roger Parsons
Copyright ©2012, 2019 by Roger Parsons. Published in print and web form by

Abbey Press Glastonbury.
Sources and acknowledgements
Publications
Lady Randolph Churchill by Ralph G. Martin (Cassell, 1971)
A Life in Archaeology by Margaret S. Drower (Gollancz, 1985)
The Life of Lady Randolph Churchill by Anita Leslie, Jennie Churchill's great-niece (Hutchinson, 1969)
Jennie — Lady Randolph Churchill: a portrait with letters by Julian Mitchell & Peregrine Churchill, Winston's nephew, (Collins, 1974)
Jennie Churchill: Winston's American mother by Anne Sebba (John Murray, 2007)
Dark Lady — Winston Churchill's Mother and her World by Charles Higham (Virgin Books, 2006)
Last Act: Montagu Porch, an article by A. R. Allen (on the Churchill Centre website, winstonchurchill.org)
The Central Somerset Gazette, via the Somerset County Record Office.
Other sources
The National Archives, Kew
The Flinders Petrie Museum, University of London.
Invaluable help has also been given by:
Robin Darwall-Smith, Magdalen College archivist
Jane Hill, Weston-super-Mare Museum
David Orchard, Glastonbury Antiquarian Society
Paul Ashdown, Pat Benham and Tim Hopkinson-Ball
Ron Treloggan, Glastonbury Cemetery
The Clive family, recently of Abbey Grange
Kim Woolmer, St Mary's RC Church, Glastonbury
Roger Leeks
Viscount Asquith of Mells Manor
Susanna van Rose
Dr Dick Shilton, Millfield Senior School archivist
Neill and Dawn Bonham, who searched for Montie in Italy
Brian and Anna Martin, who did likewise with me and my wife Ann in the summer of 2010
Richard J. Porch, great-grandson of Albert, the last Squire of Edgarley, who constantly encouraged and supported
Barbara M. Patrizi, Giulia's great-great niece — my thanks for her continuing research and support.
And most importantly I thank:
Sally Melia, whose many photos of her great-uncle Montie, particularly in his youth, have been essential, not only for this short biography but also for my booklet History of Victorian Edgarley: the fall of the House of Porch
Peter Phillips, and the late Jill and Roy Cleave and Glenys and George Phillips, all of the Hucker family, for sharing memories and memorabilia
Diana Miller, for some fascinating items of Montie's, salvaged long ago.
— Roger Parsons, Glastonbury, 2019
parsons.r@millfieldprep.com